Does anyone else feel like the fall season came – well, falling out of nowhere? School started back, work is in full force, and everyone seems to be having a birthday, baby, or wedding this season.
It feels like I woke up one day to find a pumpkin on the porch and a chill in the air. Voila! It's magically autumn again.

Our closets, on the other hand, have been patiently waiting for this time of year because there's a ton of fashion fun to be had. In addition to all the gorgeous prints, designs, and latest styles, there are 4 classic must-haves for fall that will keep you warm, fashionable, and fully embracing this season favorite.
So as you pull out your fall wardrobe and start selecting new additions for your shopping cart, here are 4 fall wardrobe staples that will last you many years to come!
4 Fall Wardrobe Staples
1. Go-to Boots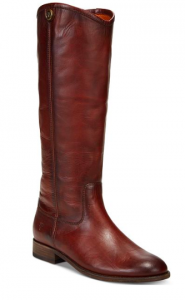 Ya gotta have the boots. Like a cozy sweater, they define fall and can add instant appeal to an otherwise boring jeans and top. You could really go crazy with different sized heels, lengths, and colors but because we're talking staples here…
If I've learned anything about fashion, it's to invest in the classics. I once fell in love with a pair of tall leather boots and remember thinking, "maybe I should go with the cheaper pair." But at the end of the day, no other boots compared so I splurged and got what I wanted. Welp, 10 YEARS LATER I'm still wearing them and still getting compliments. Most relationships don't last a decade but my boots and I are happy and thriving.
So get a classic color and length that you absolutely love. Black and brown are recommended and grey goes with just about anything if you accessorize properly.
2. Versatile Sweaters
It's swea-tah wea-thah! A good sweater can last you for years with basic maintenance. While that's good news on many levels, there is a downside and I learned it a few years back.
I travel light when flying home to see my family and always felt so smart for my minimalistic choices – until I started looking at family photos, that is. Like Charlie Brown, I was often wearing the same green sweater in several years worth of Christmas photos! Did I have more clothes? You bet, but you couldn't tell by looking at those pictures…
So for your quality sweater staples, choose something with a little versatility like:
Sweaters that you can button or leave open.
A cashmere sweater vest to pair with a variety of bold tops.
Reversible sweaters
Admittedly, I go a little nuts with different prints and styles because sweaters are just so much fun to wear. But keep in mind, when you wear these memorable sweaters for any kind of picture-taking event (and they're all picture-taking events nowadays) to mix it up so you're not left looking like a cartoon character (sorry Charlie).
3. Fall Bag
The changing of the seasons is such a great excuse for the changing of our bags – thanks Mother Nature! Shift from your summer purse that's lighter in weight and color, to a fall bag with heavier materials. It will elevate any outfit in addition to protecting your belongings from unexpected weather elements.
A staple bag, like boots, need quality materials (leather, vegan leather, or suede). While you can have fun with the latest trends, these particular bags should remain nice and sleek. Enjoy one splash of something, like an interesting color or design, but make sure it's still a classic so you won't tire of it and/or it won't date itself in five years. Below are some visuals for inspiration, and if you'd like to explore all the possibilities, hop over to our Handbag Handbook blog for the ultimate guide!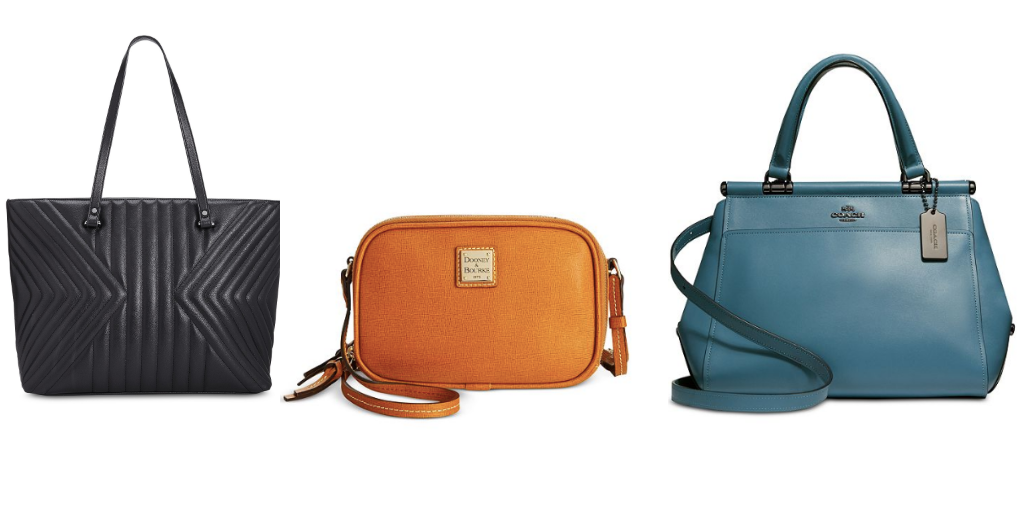 Featured above (left to right)
I.N.C. – Cissy Quilted Tote, Dooney & Bourke – Saffiano Sawyer Crossbody, Coach – Grace Bag
4. Classic Coat
Coats and jackets are so much fun to play with because, on the coldest days, we might leave them on all day and never reveal the sweater we so carefully selected. As far as investing goes, you want one classic coat that's warm, fitted, and appropriate for upscale events.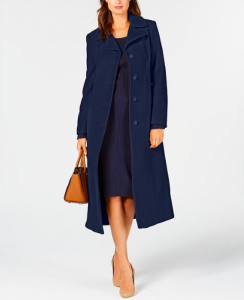 Choose a style that's tailored to your body shape with room to go over the gorgeous dress or suit you're wearing. I love playing with colors, but darker is recommended so you can hide years of wear better than a lighter color. But maybe I'm messier than you…
If you're really into colors and prints, think of this coat as your foundation, then layer colorful accessories on top for variety. Now you're not committed to a bright red polka dotted coat for the next 5-10 years and can swap out the accessories as your mood and personality adjust.
With these 4 staples, you'll be in great shape for the fall season. And if you're experiencing nasty rain on top of the cold, hop over to Your Rainy Day Checklist!