April showers are in full effect, and while this season is great for making the grass green and the flowers bloom, it can do a number on our hair and outfit. Not having the right gear can make this season miserable, but with a few fun staples you might find yourself singing in the rain!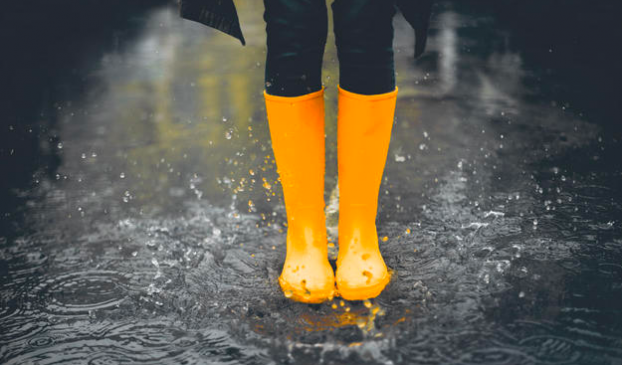 The right rainy day gear can be used as a stylish accessory – mixing function, fashion, and fun. So if you're hiding indoors, waiting for better weather, don't take another rain check on the day. Below is a rainy day checklist to help you step outside and turn those rainclouds into sunshine (figuratively, that is).
Your Rainy Day Checklist
Overall Protection
When you need to be outside for extended periods of time, you'll want overall protection. The wind might be nasty and cause you to be drenched, which is the fastest way to catch a cold (channeling my grandmother, here)!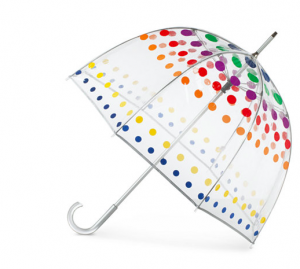 Poncho, Poncho Man!
Ponchos protect the entire body, will easily slip over any outfit, and because they're lightweight, you can roll it up and throw it in your bag. They're also great for football games, walks, and anything else that demands outside attention. Choose a design that matches your personality first and your outfit second, like this reversible rain poncho by Totes!
Long Rain Jacket
This is a more stylish option, meant to accent your outfit. While offering the same protection as a poncho, a long rain jacket is appropriate for an upscale affair where you'd like something figure flattering. Choose a design that's versatile without sacrificing fashion. For example, a bold red jacket will match almost anything but gives a bright pop of color to spruce up something basic.
Under My Umbrella
The obvious but perhaps the most fun, snag an umbrella that makes a statement. From a clear plastic to a wild design, have fun with the weather and celebrate precipitation with an eye-catching piece. Depending on the way you travel, choose a tiny one that fits in your bag, or a long, classic umbrella to cover more ground.
Head Protection
Hoodie in the Hood
When holding an umbrella doesn't seem necessary, hoodies are ideal for light rains. They'll protect your hair and face from light elements and because it frames your face, choose a color that makes your eyes pop. Sanctuary has a gorgeous embroidered design.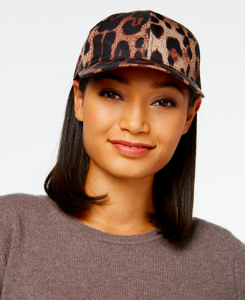 Hats On to You
A rain hat can turn a boring outfit into something magnificent. When your hair isn't quite behaving, let it be and put on a matching rain hat. Your ears will stay dry and warm, and you'll get to be the mystery lady in the hat. August Hats has an adorable selection!
Foot Protection
Boot-Scootin' Rain Boots
Everyone needs a pair of rain boots, and once you view all Macys.com has to offer, good luck finding just one. Choose a pair that's tall and a little loose, so you can easily slip them on and off. If you're a business professional, it's a nice idea to have a more elegant pair to wear to work and a fun pair for those day-to-day errands.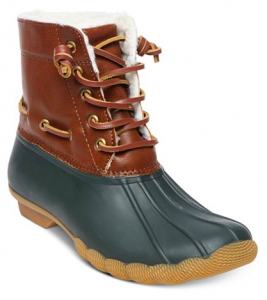 Weather Girl Boots
If you're interested in more than getting from A to B, weather boots are the answer. For those who love the outdoors, the proper footwear will allow you to enjoy nature during or after a rainfall. Choose kicks that support your foot shape (see our How to Find Your Sole Mate piece for help) and that match the activity you do most.
Face Protection
Eyes
While makeup isn't an accessory per se, if you're a woman in the rain, it's important to have a tube of waterproof mascara at the ready to avoid those dreaded raccoon eyes. Go with quality on this one; you'll get your money's worth on the first use. Lancome has several waterproof options, along with the wide variety at Macys.com.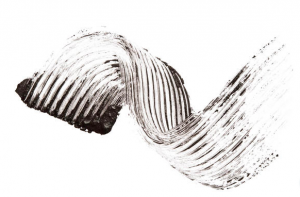 Skin
The wrong foundation could make your face look like it's melting, and because you're not a bad witch, you deserve makeup that stays in place! Mac Pro Longwear Nourishing Waterproof Foundation comes in a variety of shades that are made to battle water. Use it on a rainy day and when summer comes, you'll have the perfect makeup for the beach.
So whether the weather isn't cooperating or you just want to prepared in case it chooses not to, follow the steps above to step out of the house in a beautiful and practical way.