Whether it's the click on the sidewalk or the bounce in our step, the perfect shoes can feel like a best friend: Supportive, nurturing, and soulful. On the flip side, the wrong shoes can ruin our entire evening and feel like our worst enemy!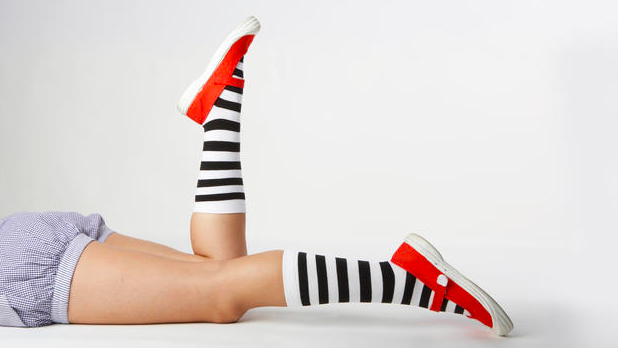 Shoes are our foundation, so it's important to have the perfect balance of fashion AND comfort to put our best foot forward. If you always seem to have the wrong kicks – with a closet full of uncomfortable shoes or your basic blacks are from the '90s – it's time for an intervention. Below is a real woman's guide to shoe shopping with 7 tangible tools to help you find your soul mate.
7 Tools to Find Your Sole Mate
Brand
Shoes certainly aren't one-size-fits-all and neither are the actual sizes. I can wear anywhere from an 8 to a 10 depending on the brand and style of shoe. When you find that perfect fit for your feet, thank the heavens! Your victory doesn't end here, explore everything that brand has to offer. You instantly know your size and their quality, now you can streamline the shopping process by purchasing online with the click of a button!
Fit
Is your foot narrow or wide? Flat or arched? If you don't know the answer, it's worth the extra effort to find out. Visit the Macy's shoe department to get measured or speak to a podiatrist for foot feedback. This extra step (pun intended) will save you time in the long run because after you know your foot shape, you can research which brands cater to your tootsies.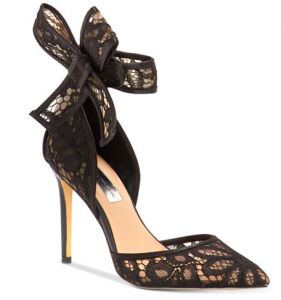 Style
It's a fashion tragedy when women stay practical with their footwear. The right shoes can bring a boring outfit to life, so have fun with it! Yes, there's a time and a place to be sensible, but take every opportunity to sprinkle in your style. Looking for basic black flats? Try a cool, textured design or a pop of patent leather. Imagine your most fashionable, awesome self and buy for HER.
Comfort
Repeat after me: I deserve to be comfortable. I deserve to be comfortable. I deserve to be comfortable…
It doesn't matter how stylish your shoes appear, if you're dying on the inside, you've failed. Find an amazing pair of shoes on sale that's one size too small? Don't do it. Set a comfort standard for yourself and then take inventory of every shoe in your closet. Take out any shoes that hurt your feet and donate them. These gorgeous shoes deserve to be worn and imagine the excitement you'll give someone else when they fit THEM perfectly!
Invest
Do not buy cheap shoes. Part of staying comfortable is having quality materials to support your feet throughout the day. Investing in high-quality shoes doesn't mean you have to pay a high price, it means paying a little extra in the beginning to save you time, money, and pain in the end. The next section will help you find quality shoes at a nice price!
Sales
Now that you've decided to only put quality soles in your closet, it's time to bargain shop.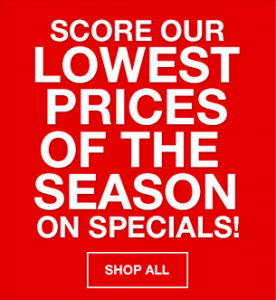 Macy's deals: Macys.com constantly has great popup sales and a lot of free shipping offers. Sign up for their email/text notifications under your account's preference notifications.
Shop out of season: When you're forced to buy something last minute it's hard to find the right shoes. Need a pair of black boots for the winter? Snag them at a discounted rate in the summer. You could end up with designer boots for the price of a mid-level boot purchased in season.
Holiday sales: Black Friday, Cyber Monday, 48-hour sales, weekend sales, etc. Plan ahead and when you know one of these babies is coming up, jump in and grab the shoes you really want!
Staples
There are certain shoe staples every gal needs in her closet. The best way to make sure you have everything you need is to take out your top five outfits for every season, the ones you're excited to wear, and see if you have the perfect shoes to match. If not, you know what to add to your shoe-shopping list.
Invest in classic styles (not sacrificing your personal style) that won't go out of fashion anytime soon – like black heels and nude ballet flats. And when you fall in love with a pair, buy them in another color! You'll thank yourself for being so smart.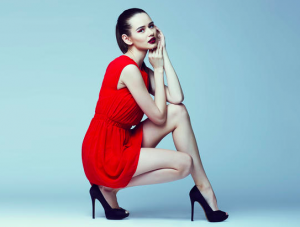 High Heels – A Step Talk
There's an old wives tale that says we have to sacrifice comfort to be sexy. Maybe that was the case when there were no half sizes and ladies were at the mercy of what was offered at their neighborhood store, but that is NOT our reality today! Feet should be the last thing on your mind when you're dressed up to the nines. It's an important date, event, or celebration and you want to be able to kick up your heels, not break them off and limp home. Heels should be quality and you might have to spend a little more time finding the perfect fit, but when you do, you'll feel like Cinderella without the curfew!