Mother Nature, here we come! Now you're traveling outdoors and there is absolutely no travel experience like camping (or "glamping" for those keeping a toe dipped in society). Many find it necessary to get out and become one with the Earth, and to do a little Facebook detox in the process…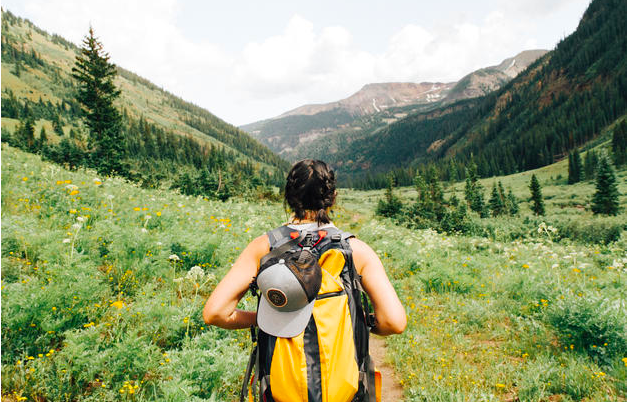 I'm convinced that 95 percent of the people who say they hate camping just didn't have the right gear. After all, traveling outdoors requires a lot more prep than "what to wear." Whether you're Googling the nearest Starbucks or ready to eat what you kill, below are some equipment staples that will make your camping trip either safer, more comfortable, or a whole lotta both.
Traveling Outdoors Checklist
Tent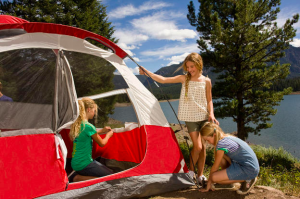 A tent is your hotel room for the next few nights, so make sure you have all the right accommodations. Here's a mini checklist of what to consider before you buy:
Assembly – A strong tent might take time to assemble, but it shouldn't feel like you're putting together Ikea furniture (unless you're into that sorta thing). Look for a tent that has a simple process with clear instructions.
Size – Size will vary depending on your crew, but a good rule of thumb is to give every person enough space to stretch their legs while sleeping. This applies to any size – whether you're sleeping solo, with a significant other, or a family of six.
Packing Capability – A tent is only as good as the destination it reaches. Make sure you can pack your tent in a reasonable amount of space and that it's light enough to carry.
Materials – Choose strong, weather-resistant fabrics that can handle all elements. Ideally, choose a tent that can be spot cleaned to make your life easier, and most importantly, select flame-resistant materials.
Backpack
When traveling outdoors, a backpack made specifically for camping and hiking becomes a part of your body. With this in mind, it should have strong but light materials with comfortable, adjustable straps. Pockets are a camper's best friend because you'll want to have instant access to certain things like sunscreen and snacks. Other items that you won't need on the hour can be packed deep into your bag.
Lantern and Charging Station Combo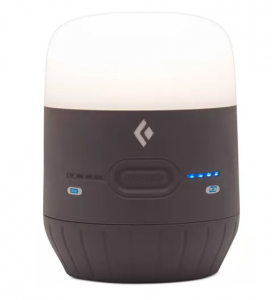 This device is oh so smart. Instead of just having a lantern for your tent, this Black Diamond Moji Charging Station Lantern from Eastern Sports has a USB port to charge your electronics. This is not only convenient, it's smart. Every item you bring with you while traveling outdoors should have a function, this one has two. Overall, look for items that do multiple things to make your life easier and your load lighter.
Sleeping Bag
A sleeping bag is as personal as the kind of pillow and mattress you prefer, so pick your poison, so to speak. There are endless options today so the great news is you don't have to settle. Here are just some of the options you have to choose from:
Temperature
Length and width
Weight of bag
Materials
A built-in pillow or pillow-like stuffing
Spend time discovering what your preferences are and you'll be surprised at how soundly you can sleep. Yep, right on the ground.
Optional: A sleeping pad is a comfy bonus to have in your tent. This won't work if you're hiking far and have to carry it, but it makes a great addition to your sleep gear if you're near a vehicle.
Hammock
Ok, so this one isn't necessary, but aren't hammocks part of what makes life worth living? There's something about crawling into one of these with a good book that declares, "You're officially on vacation now!" If you have room for a hammock, bring it along and enjoy the deep, deep feeling of escaping from it all.
Binoculars
Make the most of your camping experience with a second set of eyes. Binoculars are optimal for getting a lay of the land, seeing what direction you'd like to explore, and checking out what that rustling in the bushes is. With such a wide range of quality and prices available, you should at the very least have a basic, economical pair of binoculars in your camp. And if you really want to play big, get night vision binoculars!
Camping Chair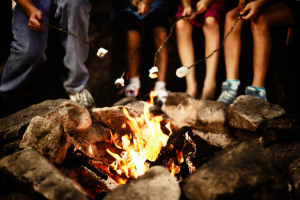 Don't be stuck sitting in your tent in broad daylight. Make sure everyone in your group has their own folding chair with some cupholders. Then, you can all sit back and relax around the campfire – one of the best parts about camping. Same rules apply to the materials, make sure your camping chair is light enough to carry if you're hiking to your location.
These camping staples should make you feel right at home in the wilderness. Who knows, you might even end up extending your trip! Have travel plans that require a whole different scenery? Hop over to our first two checklists in this Travel Series, Traveling Abroad and Traveling Tropical.