Does dad need a cool fashion refresh? Could your son use a new arsenal of t-shirts? Looking for an inexpensive character t-shirt before a trip to Orlando? Or just trying to keep up with the cool kids? This this deal is for you: Men's Graphic Tees are just $4.99 today during Macy's Super Sunday Sale!
Yes, you heard me correctly: over 20 graphic tees are only $4.99 at Macy's today, and there are dozens more under $10.
And even though they're technically men's t-shirts, there are several I want for myself and my kids.
Check out just a few of my favorites:
$4.99 Men's Graphic Tees
For the One Who Doesn't Go with the Crowd: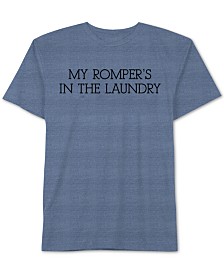 Keep in mind, this is deal of the day, so selection and sizes won't last long.

Of course, Men's graphic tees aren't the only deal you'll find during the Super Sunday sale. Take an extra 20% off (most departments) today only with code SUNDAY.