Is the Macy's 2-Day Holiday Sale worth shopping? Did you even know Macy's had such a thing? How does it differ from other Macy's sales? I'm breaking down all those questions for you below…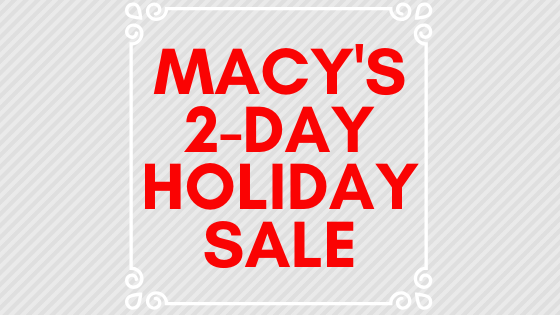 Is the Macy's 2-Day Holiday Sale Worth Shopping?
I know what you're thinking: "Is there really another Macy's sale that lasts two days? And is this Macy's 2-Day Holiday Sale any different than the Macy's One Day Sale or 48-Hour Sale?"
The truth is, the answer isn't clear.
To be completely honest, I was a little surprised when I went on Macys.com this weekend to discover the 2 Day Sale. After all, the One Day Sale is technically two days long and the 48 hour sale is, well, 48 hours.
So why a two day sale?
I'm not sure.
But what I do know is that we just got a 48-Hour Sale on Friday and Saturday and now we're already seeing the 2-Day Holiday Sale for Sunday and Monday. That's a lot of great deals in one holiday weekend!
Why the Macy's 2-Day Sale Deserves Your Time
There is one big difference between the typical Macy's One Day Sale and this 2-Day Holiday Sale: there are two ways to save.
You will save up to an extra 20% off with promo code TWODAY. OR you can take advantage of my absolute favorite savings codes Macy's offers: take $10 off $25 with the discount code TWODAY25.
If you have already read all my sale posts here on Magic Style Shop, you know I've discovered a way for you to save an additional 40% off one item during sales like this. The key is to find an item as close to $25 as possible (after the current sale price) to use the additional $10 off on.
Not only are there a bunch of limited-time specials, Macy's also has a sitewide clearance offering 50-75% off original prices. And don't forget about the Elizabeth Arden free gift that's still going on right now too!