Macy's Money is back for December 2017 and once again, you can earn up to $40 in rewards cards.
The more you buy, the more you get! Spend online 12/12-12/17 and in store 12/12-11/18 and earn Macy's Money.
What is Macy's Money?
Macy's Money is a rewards card that you can receive by making qualifying purchases with any form of payment, online and in-store. You can use your Macy's Money in addition to coupons & sale prices, even on cosmetics and fragrances!
How to Get Your Macy's Money
Earning these Macy's rewards is easy: for every $50 you spend, you'll earn $10 of Macy's Money. It's that simple!
If you're shopping in-store, your Macy's Money will be printed out directly at the register immediately following your transaction.
If you're shopping online, keep an eye out for your Macy's Money code to come via an email. Once you receive your Macy's Money code, you can either use it to shop online directly or you can print out your Macy's Money code and bring it to shop with in-store.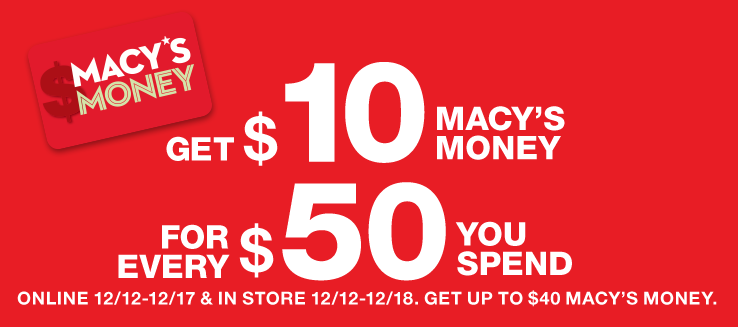 Rewards may be redeemed online and in store 12/19-12/24. And did you catch my favorite part about Macy's Money? It can be used on top of coupons! Time to get shopping…
Looking for even more ways to save big? Make sure you read How to Save Money at Macy's (I've handpicked 9 expert tips for you).
Macy's Money December 2017 Details
When to Earn: December 12 – 17, 2017 (online), December 12-18, 2017 (in-store)
When to Redeem: December 19-24, 2017
How much you can earn: up to $40
Where to Start: Macy's Money details