Finding the top Macy's One Day Sale doorbusters can be an art in and of itself and while deals always abound during the Macy's One Day Sales, there are definitely certain deals you'll want to shop before they go out of stock. You can find over 25,000 deals in store and online…

Macy's One Day Sale November 2020
We started out this year with a 48 Hour Sale, which essentially offers the same savings as a One Day Sale. This One Day Sale is their Black Friday One Day Sale where you can find extra savings on top of the One Day savings, it rund November 13-15.
The Macy's One Day Sale for September was September 18-20.  The August sale actually occurred over three days, August 7-9. The July 2020 sale happened July 17-19.
I don't know if this three day trend will continue, but I certainly like the extra day of savings!
Past Macy's One Day Sale Dates
To give further perspective on the One Day Sale schedule, there were two Macy's One Day Sales last December: December 17-18, 2019 and December 10-11, 2019.
In November, the Macy's One Day Sale happened on Monday, November 18, 2019.
The last One Day Sale before that was August 10th with its preview day on August 9th.

Prior One Day Sale Dates & Details
Macy's One Day Sales used to happen about once per month. Starting in 2018, Macy's introduced the 48 Hour Sale. On paper, it looks almost identical to the One Day Sale. The only true difference is that it more accurately reflected the timeline of the longevity of the sale. (Even the Macy's One Day Sale always has a "preview day", which basically makes it a two day sale).
While I'm not sure why the switch in name/sale, but technically, this has reduced the amount of One Day Sales that happen. That being said, there is typically at least one May's sale each month that follows this 48 hour savings event.
Around the holidays (specifically December and January), it's not uncommon to see three Macy's One Day Sales in one month.
The November One Day Sale in 2018 technically started on Tuesday, November 13, but you could have started shopping the preview day Monday, November 12, and it lasted until Wednesday, November 14.
Before that, we hadn't seen a One Day Sale since August. And to further keep us on our toes, the June Macy's One Day Sale surprised us in the middle of the week, just in time for Father's Day!
The Macy's One Day Sale remains one of my favorite sales and can feature over 25,000 deals and savings up to 70% off.
Macy's One Day Sale Free Shipping
The One Day Sale typically starts on Saturday, with a preview day on Friday, but sometimes we see a mid-week sale.
Another benefit of the Macy's One Day Sale is a lower free-shipping threshold: typically you can get free shipping with a purchase of $49 or more, but during this One Day Sale, you can get free shipping by just spending $25.
I don't know about you, but I've been LOVING all the kitchen & home deals I've been finding on Macys.com recently, and they're only getting better with this One Day Sale.
Macy's One Day Sale Deals
During the Macy's One Day Sale, you can save big on women's styles, jewelry, shoes, bedding, and more: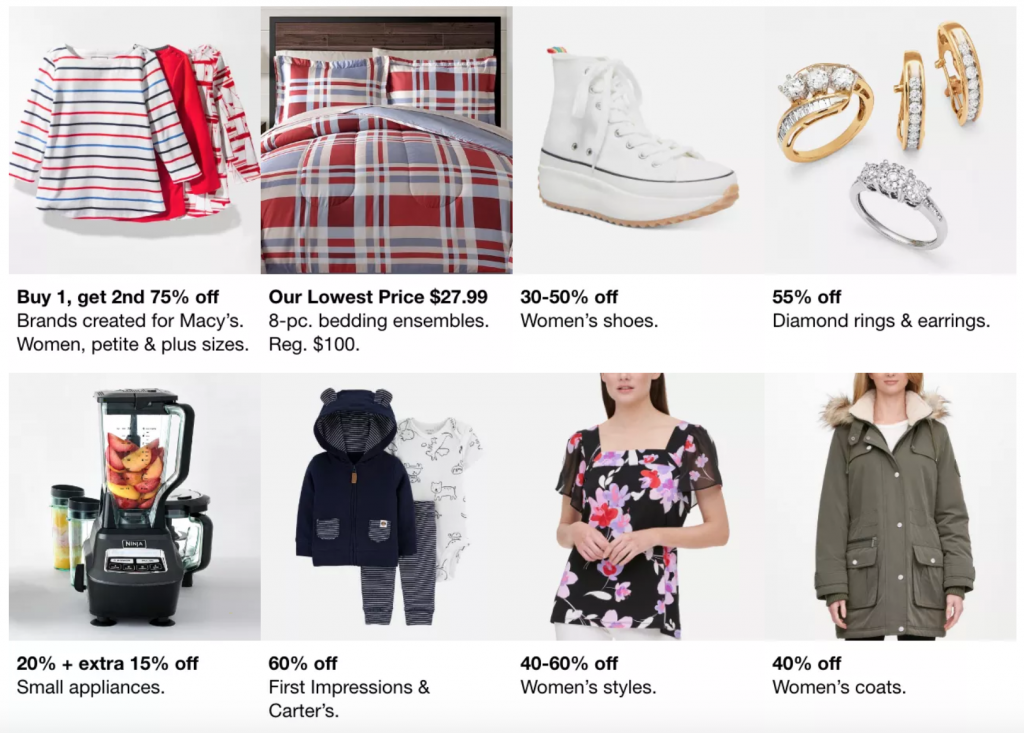 Get great deals on Kitchenaid Mixers, bedding, and more!
One of my favorite Deals of the Day is the KitchenAid Mixer Sale. You can typically get the KitchenAid KSM150PS Artisan 5 Qt. Stand Mixer for just $279.99 in over a dozen stunning colors. It will be hard to buy one as a gift and not pick up one for your own home!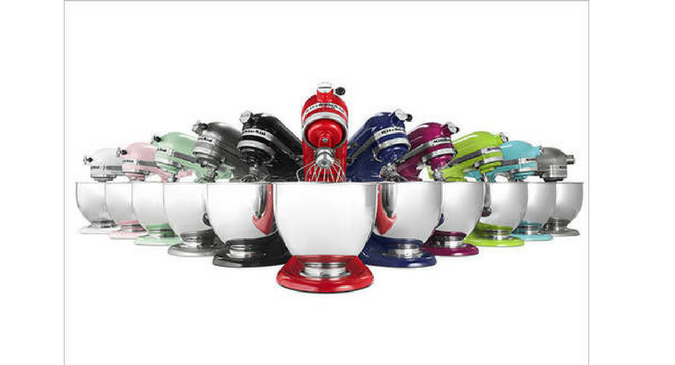 You'll also find select luggage sets for just $39.99 and even 8-piece bedding sets for as low as $29.99.
Of course, there are hundreds of deals to be found in every single department. And while I do my best to find the best deals for you, chances are, you'll be able to find some of your own if you dig around in the store.
But all these One Day Sale doorbusters and deals are only good for two days, so hurry up and get shopping!
Macy's One Day Sale November 2020 Details
While there isn't a One Day Sale at Macy's this weekend, here are the details from the last Macy's ODS:
What: Macy's One Day Sale
Where: in-stores and at Macys.com
What You'll Save: 25-70% off clearance AND free shipping at $25
When: coming November 13-15, 2020
Code to use: none needed