Today begins the July Macy's Super Saturday Sale. But the funny thing is, despite its name, this sale starts on Friday and goes through Sunday.
If you've been shopping at Macy's for any length of time, you already know the Super Saturday Sale is a great time to save an additional percentage on top of the reduced sale prices.
The percentage you'll save for this weekend is an additional 20% off (in most departments) with promo code SALE (exclusions may apply).
However, what's different with this month's Super Saturday Sale is that I have a shopping trick that will actually save you 40% off one item of your choice.
Here's what you need to do: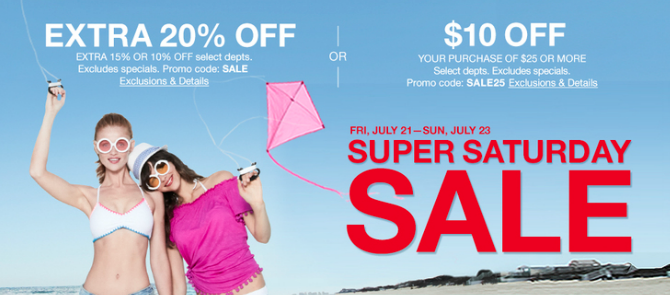 How to Save 40% off One Item Today
Find an item at Macy's or on Macy's.com that is exactly $25 before tax. For instance, I LOVE these girls' Sam Edelman Eli Patch Slide Sandals that just came in:

If you're online, add your $25 item to your cart and before you checkout, enter the coupon code SALE25.
Instead of simply saving 20% with the promo code SALE, you'll actually save 40% off:
$25 – $10 = $15 final price (before tax)
Want to buy multiple items? Figure out how you can break your purchase up into multiple $25 transactions. It might take a little more time, but the savings are well worth it.
Don't get me wrong, the 20% off code is great if you're making a larger purchase. But if you have one specific item in mind, like a small kitchen item, a few towels or a purse, the SALE25 code is definitely the way to go.