One of the prettiest deals I found at Macy's today is this Cyber Monday diamond pendant you can pick up for under $30.
The best part of this Cyber Monday deal? You can get it either in store OR online!
Get your Cyber Monday diamond pendant deal here…
Here's the breakdown of how this special works:
Make any Macys.com (or in-store) purchase of $25 or more
Add this specific Black Friday diamond earrings or pendant to your shopping cart
They will show up as $200 (their original value), but once there is a larger purchase in your cart, the price will drop down to $29.99
And because you're spending over $25 to get the deal, you'll automatically get free shipping too!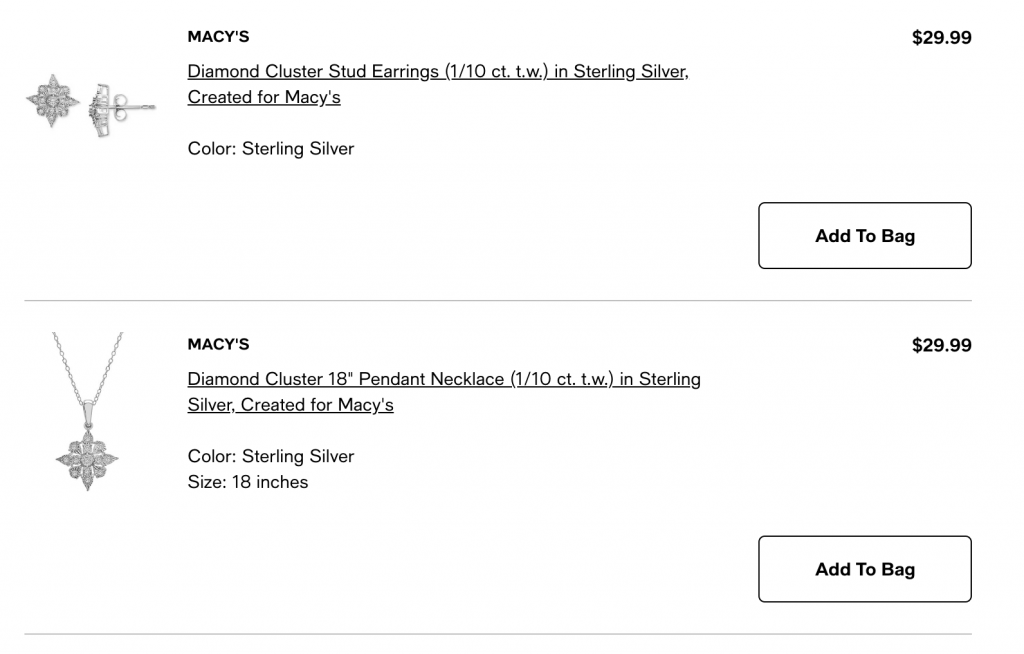 So what does this diamond pendant look like? If you ask me, it doesn't matter: diamonds are diamonds. But I know some of you are a little more particular about the jewelry you wear and gift to those you love, so here is the description from Macys.com:
1/10 Carat Diamond Necklace
Diamond Color Rating Code: I-J
Diamond Clarity Rating Code: I3
Diamond Shape: Round
I'll admit, I haven't seen the pendant in person yet, but almost every reviewer on the website gave them a 5 star rating, saying things like:
"Love them!"
"Beautiful! Exactly as advertised!"
"Great product for the price"
Need help with what to buy to get you to that $50 threshold? You just might want to check out my previous posts about the other incredible Cyber Monday deals going on right now at Macy's:
Kitchen Deals (Including a 5 Qt KitchenAid Stand Mixer for $179.99!)
And of course, there's the overall savings code you can use for the Macy's Balck Friday Sale. As much as I love a good deal, I'm often torn about just how much Cyber Monday shopping to do. That's why I love deals like this because it allows me to buy something I was already shopping for, but add-on an incredible gift I might otherwise never have considered.
Whatever you decide to do today, have fun, be safe and shop smart!