Whatever plans you had this weekend, add the Macy's Ultimate Shopping event to your list. You will not find deeper discounts at Macy's than this, especially when it comes to watches, cosmetics and fragrance…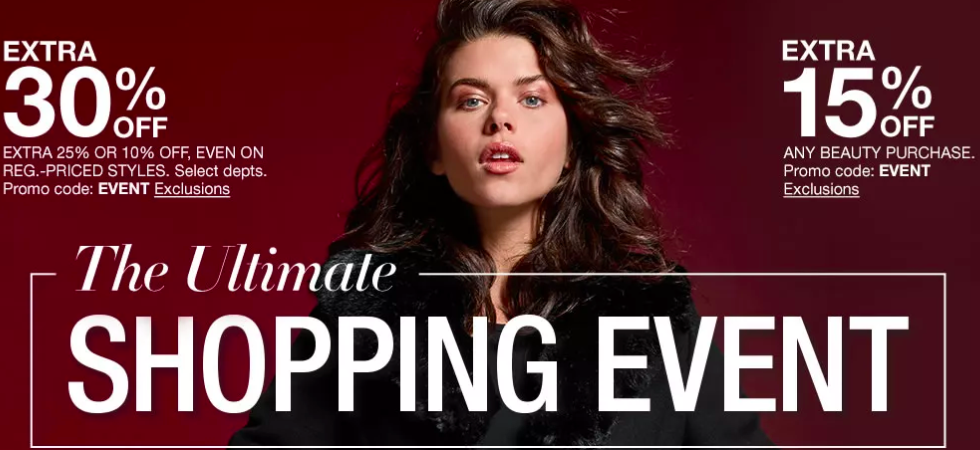 Macy's Ultimate Shopping Event Sale
If I've learned anything from shopping at Macy's, is that I should learn to expect the unexpected, especially when it comes to their sales. Of course we all know the Macy's Friends & Family Sale and the Macy's One Day Sale, but this year, Macy's has thrown some new sales into their arsenal. The Macy's Ultimate Shopping Event is exactly that.
If you ask me, the ultimate shopping event is a beautiful hybrid of both of the aforementioned Macy's sales you've come to know: it's short like the One Day Sale but has the beauty savings we love in the F&F sale.
Macy's Ultimate Shopping Event Discounts
The Macy's Ultimate Shopping Event discounts can run up to an extra 30% off + 15% off Beauty with code EVENT.
While you'll find savings in just about every Macy's department, here is how the ultimate shopping event discounts breaks down:
30% off: Select reg.-priced & sale clothing for him, her & kids, jewelry, home items, shoes, coats, dresses, lingerie & swim for her.
25% off: Select reg.-priced & sale watches
15% off: Select reg.-priced & sale cosmetics & fragrances (Yes, you read that right, 15% off your beauty purchase!)
10% off: select reg.-priced & sale small appliances & lighting
(exclusions do apply on all of the departments above)
Other department discounts include:

Fragrance Deals
I also wanted to point out some specific fragrance brands worth checking out during this savings event:
Don't forget, it's never too early to start shopping for holiday gifts!
The Ultimate Shopping Event Coupon Code
The current ultimate shopping event only runs this weekend, so don't wait too long to click, shop and save. We rarely see discounts like this, so there is truly no better time to save, especially when it comes to beauty and fragrance.
When to Shop: August 22-23, 2020
Where to Shop: Macys.com
What you'll Save: up to 30% off sitewide + 15 % off beauty & fragrance
Code to Use: EVENT
Ultimate Shopping Event Rebate Details
If you want to save even more, be sure to use the Savings.com PayPal Rebate.
Receive PayPal credit for $30 off your purchase of $100+ with a qualifying order at Macys.com when you shop through an eligible Savings.com Macy's deal link (either on Savings.com or a Savings.com partner site).
Make sure you follow the instructions on the Rebate Form (including clicking on a Savings.com deal link) in order to qualify.