Autumn is here! The air is crisp, the leaves are turning, and everyone and their mother is selling something pumpkin-spiced. Fall is a favorite season for many (I'm certainly no exception). Can anyone else actually smell football season?
Another thing that makes this season so special are those little touches that help build excitement for the approaching holidays. As a child, I remember the fall colors and scents that my mother created in our home – it still brings back memories. But if you're like most people, you enjoy your current decor and don't want to overload your home with gaudy nicknacks and clutter. You want to feel the warmth of autumn, not like a pumpkin patch exploded in your living room.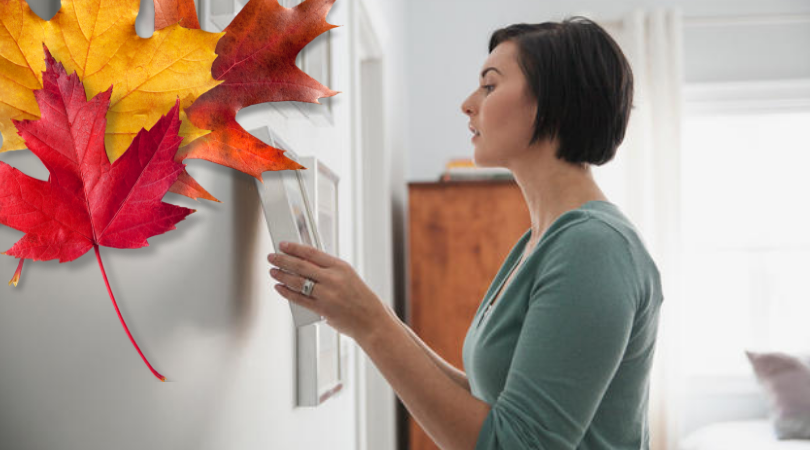 There are ways to add in subtle touches of fall to make your home pop (that work for Halloween AND Thanksgiving). They won't overstimulate your home but will still make your family breathe in and go, "ah…" Read on for inspiration on how to fine-tune your home decor for autumn.
How to Fine-Tune Your Home Decor for Autumn
A quick word before we dive in!
These suggestions are meant to sprinkle in touches of the season, not paint your living room orange. With that in mind, keep the word "replace" front and center as you decorate. Seasonally decorated homes can feel cluttered because items are added to an already filled space. When that happens, it's hard to appreciate the decor because it's just so crowded – the beautiful decorations get lost in a sea of too many throw pillows, candles, or nick nacks. Replace, replace, replace.
Less is more, so as you add in the decorations you've been chomping at the bit to pull out of the garage (or get in the mail because you ordered your new favorite thing!) think of what this special item will replace during the season.
And now back to our regularly scheduled programming…
Your Front Door
Let your guests, the mailman, and those neighbors across the street know there's some fall spirit at your residence. Replace your ordinary doormat with an autumn-inspired one. It can be as simple as a splash of fall color or one that screams, "It's autumn!" with dancing pumpkins drinking pumpkin-spiced lattes in a pumpkin patch. Your choice.
You can also add some door decor for that seasonal pop. We're talking about autumn here so you want a nice, fall-inspired piece. But for those who can't wait for Christmas, here's a little taste of those door decorations!
Your Kitchen/Dining Room
Let's do a list, shall we?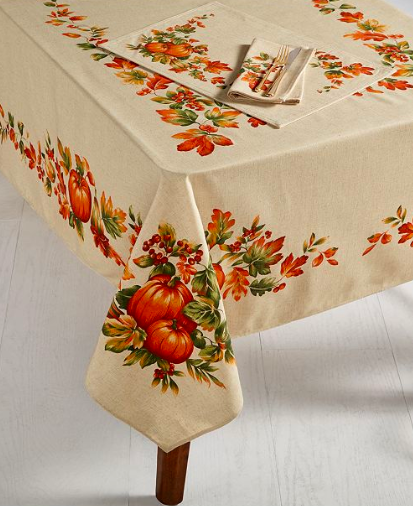 Napkins
Napkin Holders
Table Cloth
Table Cloth Runners
Place Mats
Dishes
Coffee mugs
Candleholders
Centerpieces
Salt & Pepper Shakers
And the list goes on (Macys.com has all of this and more here)! Not to mention the special treats you can serve up. I don't know about you, but this time of year as long as there's a little nutmeg, cinnamon, and pumpkin spice mixed in, I'll eat or drink almost anything you put in front of me.
Take inventory of what you currently have and how big you want to go with the fall theme. You can find one or two large pieces to showcase or spread tiny touches throughout the entire kitchen and dining room. Dealer's choice!
Your Living Room
The place to unwind and entertain, it's all about comfort and ambiance in the LR. With that in mind, make sure your fall decor has one, the other, or both!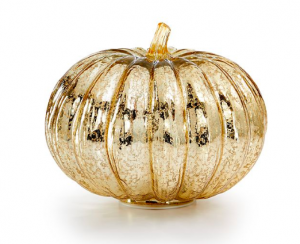 Replace your normal candles with fall-inspired ones for subtle visual enhancements and scents.
Enjoy finding some decorative (and comfy) pillows to replace your regular ones – they'll instantly transform your space by adding a spark of fall.
Add a nice autumn-colored throw over your furniture. Guests will enjoy the color and appreciate that added warmth on cold evenings.
Your Bathroom
The bathroom is usually our smallest room, so a little bit goes a long way.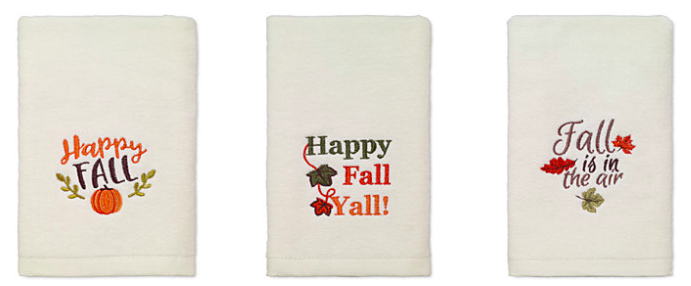 Here are several options so you can find what works for your space.
The beauty of autumn decor vs. holiday decor is it has a much longer life-span. Then you can add-in touches of each holiday that perfectly blends with your fall theme.
For those of you Halloween enthusiasts who love going all out for this season, a) please invite me to your Halloween party, and b) check out Sami's, Transitioning Your Tablescape from Halloween to Fall piece for a seamless turnaround!