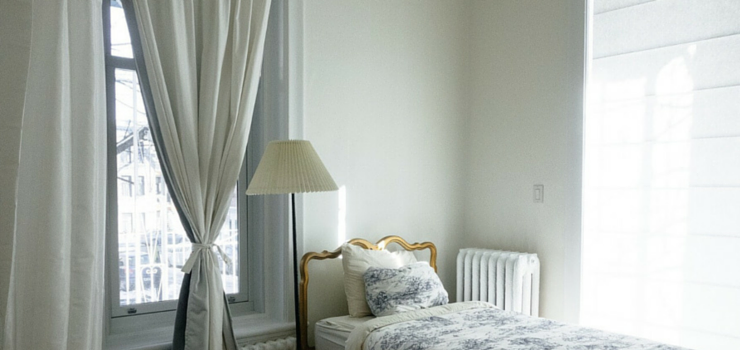 Choosing the perfect curtains is as hard as choosing paint colors or furniture. They're a prominent accent in the room, and yet people hardly ever talk about them. Picking out curtains isn't as easy as finding the cutest color or pattern and bringing it home. It's important to measure the windows, consider the space and really put thought into it. After all, these things are almost never cheap. Here are some pointers to help you find curtains that will look perfect in your space:
Measure the Space
Finding window treatments that fit your space right is important to getting the perfect look. Curtains that are too long will bunch on the floor and look sloppy. Curtains that are too short will cut the wall awkwardly. For perfect sizing measure:
2 inches from the ceiling
2 inches from the floor
2 to 3 inches on each side of the window
Your curtains should ideally be 4-6 inches wider than the windows and hang just below the ceiling, gracefully nearing the floor without touching it. By measuring to these lengths, even small spaces will seem more significant.
Choose Opacity
Depending on the size of your room and what you're using it for, the opacity you choose will be different. If someone will be sleeping during the day in the room, getting blackout curtains is a necessity. If it's a common living space that's small, getting sheer curtains that let in a lot of light will brighten the space and make it seem larger.
Generally speaking, follow these rules:
Small rooms need more light
Large rooms need less light
Rooms where people sleep benefit from blackout curtains
One exception for any room: if you have a lot of windows in one room, energy efficient curtains are for you! These special window treatments fall more under the blackout category and help keep excessive heat out and keep your cooling bill low.
Choose Color Options
While curtains can be the inspiration for how the rest of your room is decorated, they are often an accent added after paint colors and furniture have been decided upon. This makes it a bit more of a hunt to find window treatments that coordinate with your look. But it's not as hard as it seems.
Start by finding the colors in your room that you most want to highlight. Are you in love with your paint color? Is there a piece of wall art that speaks to you? Maybe you've got a rug that's magnificent. Take a close look at the color or color scheme and style within it and make it your mission to find something that complements it. This blog has some nice pointers on color matching.
Combine and Search
Once you've determined the size, opacity and colors you're looking for, you can go out into the big, bad world on a hunt for perfection. It can take some time to find the right curtains, so don't commit to the first ones that might work if you aren't in love. Many online stores like Macy's have awesome filtering tools that allow you to narrow your search to the size, opacity, color and price you're interested in.
Macy's curtains are reasonably priced, ship free after $50, and have an easy return process if the items you choose don't work in your space.
Getting the right window treatments for your home doesn't have to be an intimidating task. Take the time to really figure out what you're looking for and search for it online. It may take some time, but with patience, you'll find curtains that will seem more like an investment than an expense!