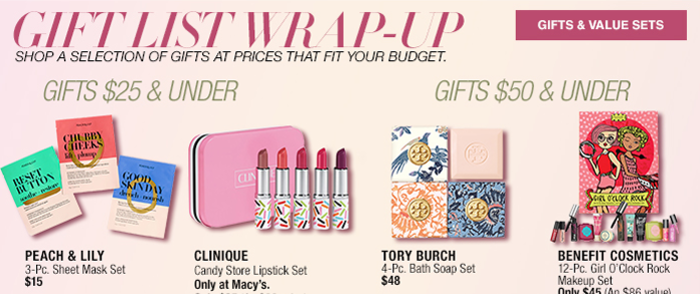 The holidays are my favorite time of year to shop for beauty sets because not only are there so many limited-edition collections, but you can find great beauty deals as well.
That's why I'm quick to buy beauty gifts for both my friends AND myself during this time of year!
Check out this beauty gift list holiday wrap-up featuring some of the hottest beauty gift sets at the best prices of the holiday season:
Beauty Gift List Holiday Wrap-Up
Did you notice that each of these sets is less than $50? Some of these beauty gift sets can even be broken up to be gifted to multiple people; individual items can make great stocking stuffers too.
And don't forget that you get FREE shipping and FREE returns on all beauty purchases.
This beauty gift list features four of the hottest beauty gift sets I could find at Macys.com, but there are literally hundreds more, so you can find the perfect look to make the perfect gift.