I guess I shouldn't be surprised, but you all have gone CRAZY after finding out there are 10 free Macy's Black Friday Doorbusters to grab this week. That being said, I felt these freebies deserved a post of their own to break down these deals for you and how to best take advantage of them.
How to get 10 Free Macy's Black Friday Doorbusters
Allow me to tackle the most common questions I've been hearing about this unique Macy's deal:
When Can I Get the 10 Free Macy's Black Friday Doorbusters?
You can start shopping for the free doorbuster deals on Thursday, November 23, 2017 in stores only. Keep in mind, the rebates are only available until 1pm.
Can I Get the 10 Free Macy's Black Friday Doorbusters online?
No. You have to go to your local Macy's to find these deals. (But there are still plenty of great Black Friday deals to be found on Macys.com).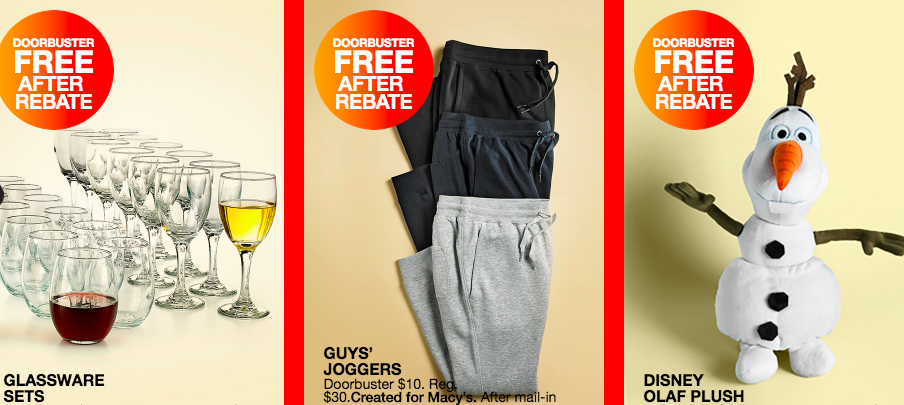 What are the 10 Free Macy's Black Friday Doorbusters?
That's the big question, isn't it? You'll notice they all have a price next to them. That's because all the items below are free after rebate, which means you pay for them out of pocket and then submit a form for a refund (more about that below). Here they are, along with how much they cost and what you would normally pay:
Glassware Set – $10 (reg $30)
Guys' Joggers – $10 (reg $30)
Disney Olaf Plush – $10 (reg $30)
Graphic Sweaters for Her – $10 (reg $30)
Kitchen Electronics – $10 (reg $29.99)
BCBG MAXAZRIA Fragrance – $12 (reg $55)
Lauren Ralph Lauren Pillow – $10 (reg $20)
Tote Bags – $10 (reg $35)
Men's Gold Toe Slippers – $10 (reg $28)
Men's Thermal Tops – $10 (reg $30)
I love that there is truly something for everyone on this list. And can you believe there is a free Disney Olaf plush? Let's face it – these deals would be great even if there weren't a rebate making them free! Speaking of all ten deals…
How Many Free Doorbuster Deals Can I Get?
All the free doorbusters are limited to one per customer, except for the Lauren Ralph Lauren Pillows, which have a limit of two per customer. I know, I know, this means you may not be able to cross off everyone on your gift list with a free gift, but as I mentioned above, even if you didn't follow through with the rebate on these items, they are still being offered at incredible prices.
When Will I Get My Rebate?
You need to allow 6-8 weeks for rebate delivery; in CT, RI & PR & in Dade & Broward Counties, FL, the rebate is given at the register. Keep in mind, you will still have to pay sales tax on each item.

Did that answer all your questions? I hope it at least cleared things up a little bit while helping you get excited for this sale.
Do you want to see the the free doorbuster deals for yourself? Click here to get a sneak peak. Can't wait to shop? Check out the Macy's Black Friday Sneak Peek Sale.