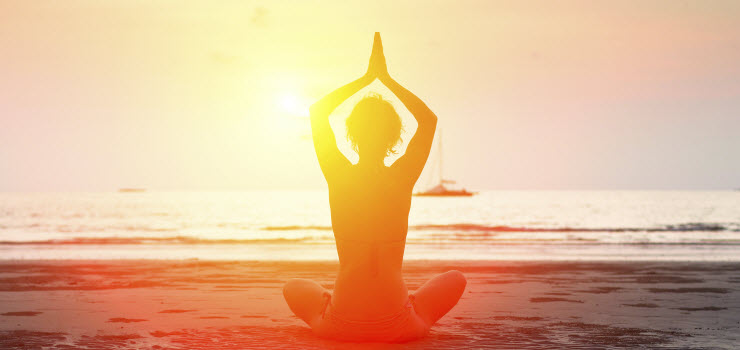 A yoga challenge entails practicing yoga every day for a predetermined number of days…21, 30 or 45 days. It's up to you. One thing to keep in mind is to not be hard on yourself. There will be days that you just don't make it to the studio. The idea is to go for as many days within your challenge as you can and to not let silly excuses like "the dog ate my yoga mat" keep you from going. For the days you can't make it to class, still try to practice at home; standing in mountain pose or doing a sun salutation, it's yoga and it counts.
The most profound benefit of doing a yoga challenge can be that it sets the groundwork for positive changes and habits in your life. If you need reinforcement, get a friend to do it with you! It makes the challenge fun and you have someone motivating you along the way.
Now, on with the gear you'll need for your yoga challenge.
1. Yoga Mat
Choose your yoga mat carefully. You'll want one that has enough cushion for your joints and that is a non-slip mat. Yoga mats come in standard length and tall, as well as wide. Most, if not all, of your practice will be on your mat, so choose one that you're comfortable with. Choose a standard size with a non-slip surface, which works well for a variety of yoga classes including warm and hot yoga.
2. Yoga Clothes
There's no reason you can't be fashionable in a hot and humid yoga class. It's self expression on a sweaty mat. And I found that funky colored yoga pants and expressive shirts added to the experience.
Ideology Printed Cropped Leggings
3. Hot Yoga Towels
You're bound to break a sweat in a yoga class, even more so if it's vinyasa flow or hot yoga. A no-slip towel will keep you dry and stop you from slipping on your mat.
4. Water Bottle
Instead of buying a bottle of water at the studio, save money and be green by bringing your own. This 24-oz water bottle is spill proof and has a slick black lid (it won't show your lipstick!).
ban.do After This We're Getting Pizza Water Bottle
5. Headbands
I found headbands to be useful in keeping the sweat away from my eyes and holding down my frizzies (which seem to go rampant in a hot class).
Under Armour Active 4-Piece Mini Headbands Set
6. Yoga Block
Yoga blocks are a necessity. They help you keep your balance and work into more advanced poses. They are an inexpensive must-have yoga accessory.
7. Yoga Strap
Yoga straps helped me go deeper into stretches without hurting myself. Look for a long strap that's sturdy enough to give good resistance.
Best of luck future yogi!