Baseball season is done, hockey and basketball seasons are underway and football playoffs are about to start. What's a super fan to do?
Dress the part, of course!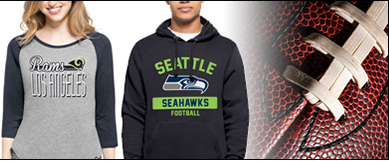 When you want to show your team spirit without breaking the bank, there are usually only a few options:
Buy plain shirts in your team colors from your local big box store
Force yourself to fit into a kids' size jersey since they're cheaper
Wait for the less-desirable spirit wear to go on clearance
I may or may not have tried each of these options in the past. But with the NFL season in prime time, you want to look your best! So don't settle for second best; I have an option better than all the rest (see what I did there?).
During the Macy's "More the Merrier" Sale, you can get 50% off all your favorite team gear. That way you can get the gear you want at the prices you want.
So regardless of whether you're shopping for yourself or for the sports fan in your family, you can save 50% off through 12/21.
Need to make a quick move to your favorite sport? Don't worry, I've got you covered:
And if that sports fan happens to be in college (or just wishes they were still there), you can snag all your favorite NCAA team gear too.

From game-day to everyday, men and women alike can find the perfect spirit wear to cheer on their favorite team.