This Macy's 3-Day Sale we're seeing now is unprecedented. You already know about Macy's One Day Sales and we've even seen a 48-Hour Sale emerge, but I can only assume this new sale is Macy's response to Amazon Prime Day.

Macy's 3-Day Sale
Look, I'm not going to call this Macy's Prime Day Sale, but let's face facts: there are some major sales competing with prime day 2020. And I'm not complaining!
Macy's is adding their name to the mix by giving everyone 30% off and free shipping on all orders for 3 days.
Perhaps we should call this the Macy's CEO Thank You Sale because this showed up in my inbox as "an exclusive offer from our CEO".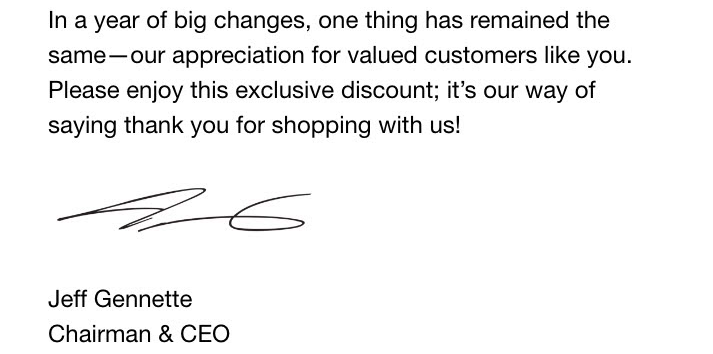 Macy's Free Shipping with NO Minimum
There is one thing I want to make sure you don't miss. Yes, you heard me right above: there is FREE SHIPPING with no minimum order.
This is a RARE event these days. You don't have to sign up for anything. You don't have to pay an annual fee. Just Macy's free shipping. Period.
Macy's Thank You Sale Details
I guess we could also call this Macy's Thank You Sale because the code you use to save big is THANKYOU. Here is the breakdown of savings when you use the code THANKYOU:
EXTRA 30% OFF select reg., sale & clearance: Fine/Fashion Jewelry, Handbags, IA, Apparel, & Home.
EXTRA 25% OFF select reg., sale & clearance: Fine/Fashion Watches & Luggage.
EXTRA 15% OFF select reg., sale & clearance: small Appliances & Electrics.
EXTRA 10% OFF select reg., sale & clearance: furniture, mattresses, lighting, & rugs.
Free shipping on ALL orders.
Where to Shop: Macys.com
What You'll Save at the Macy's 3-Day Sale: Up to 30% off
Discount Code to Use: THANKYOU
Hear me clearly, this may be the best sales we'll see for the rest of the year. This is the time to not only think about holiday shopping, but also any household needs you'll need for the next three months.
Differences in Macy's Sales
These are all the details you need about the current Macy's sale, but there are a few differences in Macy's Sale I want to be sure you're aware of.
At first glance, this looks very similar to the Macy's Friends & Family Sale or the Macy's VIP Sale (the only other times I've seen 30% off at Macys). There are 2 major differences though:
I do not see the same discount on Beauty (typically you get 15% off beauty during those two sales.
There is free shipping during this 3-Day Sale with no minimum.
And although there is not a discount on Beauty in this sale, you can qualify for a Free Clinique gift at Macy's right now.
I think that's everything you need to know at this point. Keep in mind, the Macy's Great Shoe Sale is also going on right now. Basically, the more you buy, the more you save…up to 40% off!
The bottom line is that there has never been a better reason to shop Macys.com. Don't forget, you can also buy online and pick up in store or curbside still.