On Thanksgiving day, many celebrate all they're thankful for, then stuff their faces with turkey and pie. Not a bad gig for anyone who loves good food and good company. So if you're sad to see this holiday come and go, there is good news: It doesn't (and shouldn't) have to come only once a year!
The tradition of gratitude is a wonderful habit to incorporate into our daily lives. Thank you gestures not only benefit the recipient, but studies have shown that gratitude can strengthen your immune system, give you better sleep, reduce depression and increase joy! Not too shabby for a little act of kindness.
For inspiration on how to show appreciation to all the treasured people in your life, below is your very own Gratitude Guide – 5 ways to say thank you.
Gratitude Guide – 5 Ways to Say Thank You
1. Handwritten from the heart
Ditch your email and put pen to paper the next time you'd like to say thank you. People love finding an appreciative gem in a mailbox full of bills and fast food promos. Choose some beautiful stationery or a thank you card just for them and pour your appreciation onto the page.
Not a writer? Don't worry. A sincere "thank you" written on the page will speak volumes. The biggest message the recipient will get is that you took the time and thought to sit down and write it. They'll remember the gesture and you'll enjoy the act of doing something nice for someone on a non-holiday (and have a sweet little tune in your heart because of it).
2. Made with love
They call it comfort food for good reason… When someone puts love into their cooking, you can almost taste it! If someone is close enough in distance and you know their favorite dish, make it for them and hand-deliver it with a smile to show you care!
However, if you're like me and cooking for someone would be a punishment, put your other talents to use. Do you have a green thumb, like making jewelry, or have a knack for crocheting? If so, make something just for the person you'd like to thank. It's a great display of appreciation and it doesn't have to be perfect to make someone light up with joy.
3. Remember special days!
In addition to one-off thank you's, there are people in our lives we want to constantly remind, every chance we get, just how important they are in our lives. For these special relationships, keep track of their birthdays, anniversaries, and special events coming up so you can send them a little love that day, letting them know you're thinking about them!
Use a journal, wall calendar, or phone reminder. Keep track in your own way, just make sure you're keeping track!
4. Personalized gifts
Do you know what's on this person's wish list? Have you noticed that the apple of your grateful eye is in need of something? Pay attention to what people need and want. If you're at a loss, ask a mutual friend whenever possible for help. Oftentimes we're in such a rush to show people we care, we fall back on generic gifts.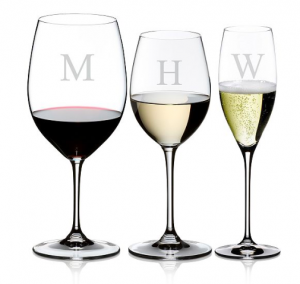 Put yourself in the future recipient's shoes and search for what they might enjoy. Consider giving a gift that's embroidered or personalized in some way – hand towels, the letter of their first name on an item… Search for a gift that screams THEM right away. Anything that remotely hits this target will make them feel like you've put thought into giving them more than a gift, but a smile.
5. Celebrate yourself!
Being grateful starts with a joyful heart and by celebrating all that makes you YOU, you're able to celebrate others.
What lights you up? A good book and a relaxing massage? Inspirational music or a pedicure? Whatever the gift is, don't cheat yourself, give yourself something you love, something that makes you feel inspired, relaxed, and special. Whether it's a new handbag or scheduled quiet time to journal, gauge how great the gift is by how it makes you feel.
Need a gift for a new friend or coworker? Gifts for New Friends: A Foolproof Guide will help you find the perfect match!