Looking for the insider scoop? Good, because I've got it!
The Macy's One Day Sale is back July 7-8, 2017 and I want you to be in the know before anyone else.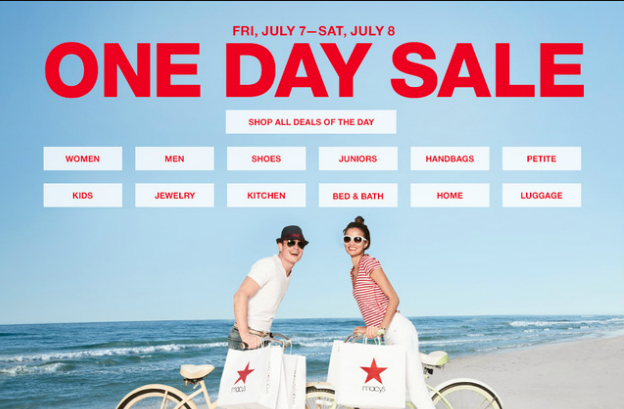 Macy's may call it a "One Day" sale, but since you're getting the inside scoop, it's safe to tell you that you can take advantage of all the deals you'll find on Saturday, July 8 one day early on the preview day, Friday, July 7.
And you and I both know that if you shop on Friday, you'll find an ever better selection than if you wait until Saturday.
Sometimes the Macy's One Day Sales will pop up on a Tuesday and Wednesday, but this one stays true to form with the Friday and Saturday format. However, it is happening quite early in the month, which makes me wonder: could there be TWO One Day Sales this month? Only time will tell…
There are literally dozens of special "Daily Deals" you'll find throughout Macy's and on Macys.com during the July One Day Sale, so keep your eyes open in every department.
Macy's July One Day Sale 2017 Details
What: Macy's July One Day Sale
When: July 7-8, 2017
What You'll Save: up to 70% off
Code to Use: none needed
Don't forget – when you shop the Macy's July One Day Sale online, you shop in your pajamas and still take advantage of the same daily deals as you'll find in store. PLUS you'll get free shipping when you spend just $25, so what's not to like about that?