Part of the Macy's Columbus Day Sale event worth paying attention to is their 7-Day Fine Jewelry Event. While there are many exemplary deals, especially on bigger-ticket items, today I want to outline how you can get a 16″ gold chain PLUS a pair of diamond earrings, all for under $45.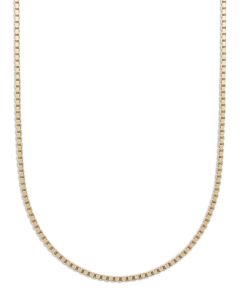 Why I Love Gold Chain Necklaces
The 16″ box chain necklace in this deal is in fact a Giani Bernini 24k Gold Over Sterling Silver Necklace. I happen to love and prefer box chains over any other kind of necklace for three reasons:
1. They look more stylish
2. They have a heavier weight and feel to them
3. They don't seem to catch my hair as easily as other gold chains.
I can say this with authority because I've been wearing a gold chain nearly all my life, not just for fashion's sake, but as a competitive athlete.
A Nod to My Childhood & Tennis Idol
You see, I've always been quite small for my age, but despite that, I've been playing tennis for as long as I can remember. While I can tell you that I went on become a tennis pro as an adult, I lost my fair-share of matches as a child.
Luckily, my aunt owned a tennis pro-shop that I helped work in, so while I didn't always win, I looked the part. In fact, she would often remind me, "Win or lose, it pays to look good". She was half-kidding, but I embraced that motto. I even modeled my tennis game and style after my tennis idol: Chris Evert.
Chrissie was known for wearing jewelry (gold jewelry, to be specific) whenever she played. As such, I adopted the routine and ritual of wearing the same gold hoop earrings, gold box chain necklace with a tennis racquet charm, gold tennis bracelet (albeit with CZ instead of diamonds) and gold watch during each of my matches through college.
While silver may be more on-style these days, my love of gold never wavered and it's still my preferred metal to this day…even down to my wedding ring.
All that to say, you can imagine my joy when I hunted down this deal on Macys.com. My neck has grown as I've gotten older and so the 14" necklace of my youth is no longer comfortable to me and I've never found the opportunity to replace it…until now.
Here is how the Gold Chain/Diamond Earring deal breaks down:
Add the Giani Bernini 24k Gold Over Sterling Silver Necklace, 16″ Box Chain to your bag. (Technically you can add any style of this chain or a number of other Fine Jewelry selections to get this deal, but this happens to be the best value at just $14.16).
Once you click "

Add to Bag

" and then "

Checkout

", you'll see the earring deal appear below your chain. From there, you simply need to choose the preferred finish of your deeply discounted diamond earrings: gold or silver.

The diamond cluster drop earrings, normally $160, are just $29.99 with your fine jewelry purchase during this Columbus Day fine jewelry event. This means you'll get both the chain and the necklace for under $45.
This limited-time special does not qualify for any additional Columbus Day Sale savings and does not meet the free shipping threshold of $49, but could easily be reached if you add another great deal to your bag.

PLEASE, PLEASE, PLEASE, don't just stop at this deal. There are SO many incredible savings happening right now featuring the lowest prices of the season.
Even if this deal doesn't suit your fancy, imagine what an incredible anniversary or Christmas gift this would make for someone special!