With summer right around the corner, you can't afford to miss these 5 easy steps to summer skin care.
I know, I know…you're thinking, "It barely feels like spring!"
But the biggest mistake most women make is waiting until they see the sun or start feeling the burn to begin taking care of their skin in the summer.
On the contrary, we should always be protecting our skin from the sun. But the truth is, our schedules don't always allow time for a full skincare regimen.
Plus, with summer schedules, we find less predictability and a greater need for our skin to feel lighter and not as weighed down by the heavy moisturizers many embrace during the winter months.
So let's simplify with these summer skincare tips, modified from advice from the doctors behind Dermalogica:
5 Easy Steps to Summer Skin Care
1. Exfoliate
Removing dead skin sets the tone (and the canvas, so to speak) for every other part of the regimen, leaving you clearer, smoother skin.
2. Hydrate
You've always heard of drinking 8 glasses of water a day (64 oz.), but the truth is, you should drink half your weight (in ounces) of water each day. And if you sweat at all, that number needs to increase even more.
3. Apply (and reapply!)
Unfortunately, it's not enough to apply sunscreen once in the morning; carry sunscreen with you so you can reapply throughout the day.
4. Repair
A tan actually indicates sun damage, as can spots. It's been shown that a serum is the quickest and most effective way for your skin to get the vitamins it needs.
5. Soothe
As careful as we may be, sunburn can still occur. If you find yourself over-exposed or out too long without reapplying sunscreen, make sure to follow up with a good moisturizer.
Right now, you can receive a FREE 6pc Gift with any $75 Clarins Purchase (A $92 value!).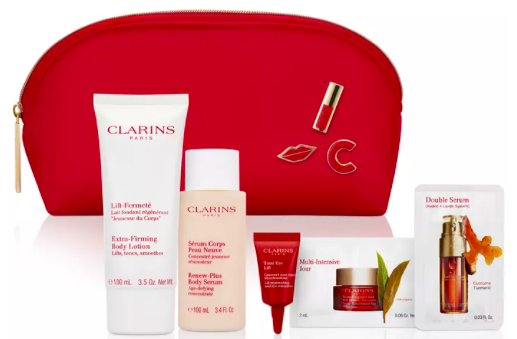 And if you really want to show off your new, healthy summer skin, consider purchasing the Clarins Sunkissed Summer Collection. Not only will it complete everything you need for your summer skin and makeup routine, it will help you achieve your Clarins free gift faster.