Macy's One Day Sale may be over, but the Macy's 2-Day Holiday Sale is in full swing with not one, but TWO ways to save!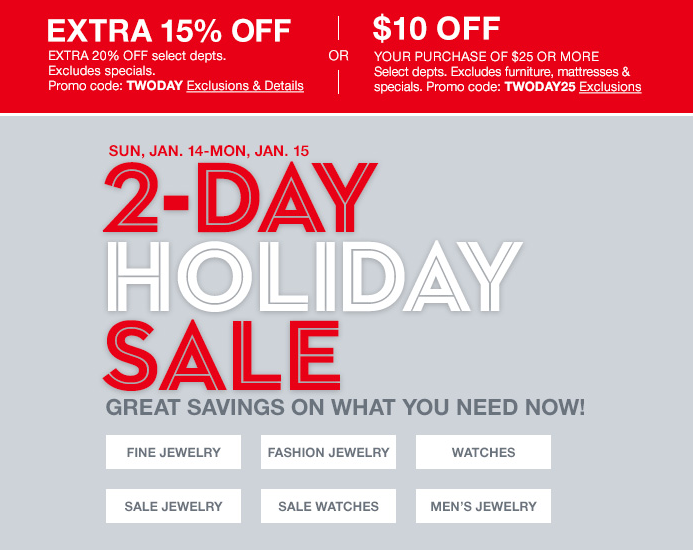 This Macy's sale is helping you save on everything you need to start your year off right, from the latest tech accessories to kitchen gear.
And depending on what you need to buy right now, you may find one coupon code works better than another. Here are the two options:
2 Ways to Save: Macy's 2-Day Holiday Sale
Take an extra 15% off (most departments) with code TWODAY
Take $10 off a $25 purchase with code TWODAY25
The reason I love the second discount code so much is because if you just have one gift to buy or one thing you've had you're eye on at Macy's that falls right around that $25-30 range, the TWODAY25 code is going to save you the most money (especially if the items is already on sale during the 2-Day Holiday Sale!)
Some of the notable deals are:
* Women's coats starting at $79
* 30% off handbags & wallets
* 60-75% off clearance fine jewelry
* 40-60% off Levi's Men's Jeans
* Estee Lauder 20% off AND receive a FREE cosmetics bag (when you buy a serum & moisturizer together)
* 25-65% off Finish Line End of Season sale
Plus, Macy's BIGGEST MATTRESS SALE OF THE SEASON ends tonight, so there are a lot of can't-miss specials all converging today.
Here are all the details you need to know for the sale:
Macy's 2-Day Holiday Sale January 2018 Details
What: Macy's One Day Sale
Where: in stores and at Macys.com
What You'll Save: 10% off or $10 off a $25 purchase
When: January 14-15, 2018
Code to use: none needed
If you are looking for more great deals, don't forget to follow our Magic Style Shop Facebook page.