Did you know it's possible to dress up fruit? Neither did I until Martha Stewart stepped in.
Taking to Twitter recently, Martha posted her own "new uses for old things" by suggesting we get creative in the kitchen by displaying our fresh fruit on a cake stand:
Healthy eating never looked so good as displayed on this @macys cake stand! How do you get creative in the kitchen? https://t.co/EwwUEsf3Bh pic.twitter.com/7jyLlUAIxT

— MarthaStewartLiving (@MS_Living) May 17, 2017
I bought a Martha Stewart cake stand at Macy's almost a decade ago after moving to Nashville and regrettably, it spends most of it's time in a cabinet…but not after today!
In fact, this has made me revisit the entire Martha Stewart Kitchen Collection at Macy's. Not only are there so many fabulous pieces on sale right now, but you can also take (up to) an extra 20% off with code SUMMER through June 7 (in addition to applying your Macy's Money towards your savings too!).
I'm quite partial to the Martha Stewart Summer Sweets Collection, available only at Macy's and eligible for an extra 15% off during the summer sale: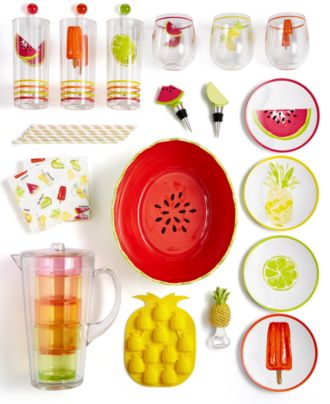 Not to mention, each of these pieces retails for less than $25 BEFORE the discount, so you can really set your summer table for less right now.
What about you – do you have any fun uses for kitchen accessories that are typically only pulled out for special occasions? We'd love to hear from you over on our Magic Style Shop Facebook page!