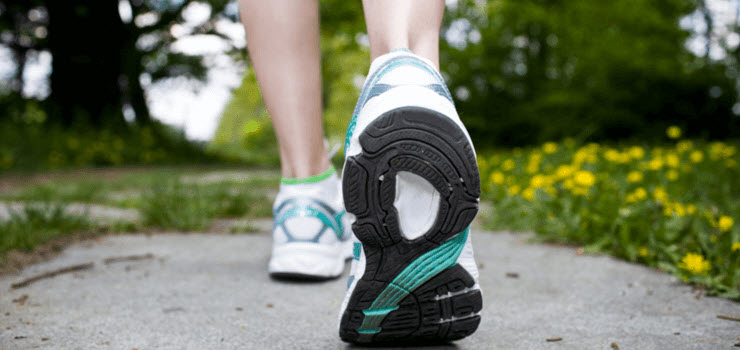 When embarking on a new fitness journey like running, it's important to have the right gear to make it not only comfortable, but safe. Whether you're running to relieve stress or your goal is to complete a marathon, here are five essential running accessories you'll need.
1. Running Shoes
The right shoes will make a world of difference in your running in both comfort and speed. You'll pay for pounding your poor feet on the pavement in the wrong running sneakers. Save yourself from achy feet and tired ankles…and shave some time off of your runs!
Asics Women's GEL-Nimbus 18 Running Sneakers from Finish Line
2. Running Lights & Reflective Gear
Most people run before or after work. Which means outside, natural light may be limited. For your safety, it's absolutely necessary to have running lights and reflective gear. Drivers are not going to squint to try and make you out in the dark. Take safety into your own hands. You can choose reflective straps to go around your arms, clip lights on your shoes, or go with a reflective leggings. There are many options to consider and coupon offers to make it more affordable.
Betsey Johnson Reflective Logo Leggings
3. Athletic Apparel
Running clothes is one thing you won't want to overlook. You're going to work up a sweat on your run and the last thing you want is to be drenched. It can cause chafing in unwanted places and make you take a few days off. Keep your skin dry with fast-drying running apparel including sports bras, shorts and shirts. Choose clothing that is not only functional but fashionable. Don't be afraid to let your personality come through in your running clothes. Choose bright, funky colors and patterns if that's your style. Bright colors also help keep you visible to motorists.
Under Armour Men's Compression HeatGear® Space-Dyed T-Shirt
4. Running Watches
Now that you've committed to running, you'll want to track your progress. The most effective running gear is a running watch. With a watch, you can track your pace, use it as a stop watch for sprint training and so much more — all without having to fumble to look at your phone. It's convenient and functional. There are many running watches on the market offering different levels of functionality. Some have GPS tracking, can measure your heart rate and allow you to log your workouts. Find one that fits your budget and suits your needs.
Samsung Unisex Dark Gray Round Samsung Gear S2 Watch 42mm
5. Water Bottle 
Don't count on there being a water fountain to quench your thirst on your runs, especially long runs. Be prepared to carry your own. There are several options out there including fuel belts, water bottle holders and backpacks. With all the options available, it's easy to find one that is comfortable for you. What you want to look for, first and foremost, is one that will hold enough water to keep you hydrated on your run, and secondly, one that doesn't get in the way or bounce around. That can be very distracting. A good fuel belt or holster will insulate your water or sports drink, and stay in one place.