This may not be the most glamorous deal of the September Macy's One Day Sale, but it certainly might be one of the best deals for something many of us need to update in our wardrobe: our bras.
Through September 16, Macy's has a Buy One Get One 75% Off Bras sale that includes more than 90 styles!
The interesting thing about this is that I discovered one panty that seems to be part of the sale as well: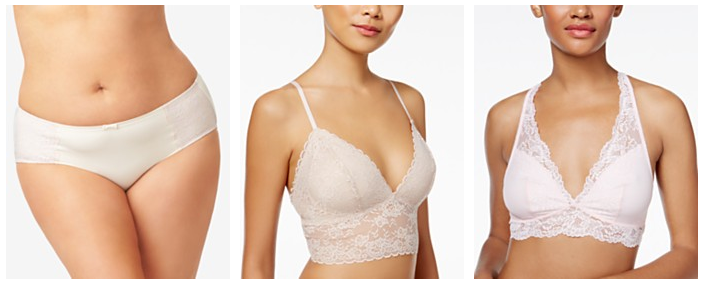 Buy 1 Get 1 75% Off Bras. Shop now at Macys.com! Valid 9/15 through 9/16
The Olga Flirty Lace Panel Hipster you see above is only $12.50, which means you can get 2 pairs for just over $15!
You can also see the two cheapest bras included in the sale next to the hipster panties in the image. What I love is that they are bralettes, which are SO popular right now.
While I may not agree with how some of the young ladies are wearing them exposed in public, I do think they make for a comfortable undergarment with pretty straps if those happen to show under a tank or sweater for the fall.
The bralettes are $32, which means if you order two, you'd be getting them for $40 total. Plus, with this One Day Sale, you get free shipping at just $25, so there would be no additional cost if you didn't order anything else online…but I can't imagine you not finding another great deal to add to your cart at Macys.com.