The May Macy's One Day Sale is upon us and there is one deal you can't afford to miss!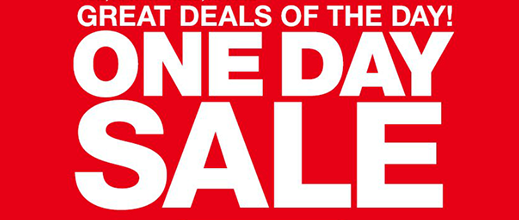 I'm not going to lie, the Macy's One Day Sale is one of my favorite shopping opportunities, both for the savings that occur and the unique specials Macy's (& their fabulous brands) manage to pull together for us each month.
And while it's true there is one deal you can't afford to miss during this month's One Day Sale, I fibbed a little bit: there's actually one deal in each department I don't think you can afford to miss.
What are they? I've listed them out for you here so you can get a head start on your shopping cart:
Beauty
* FREE 2pc SUN GIFT! With any purchase of 2 or More Shiseido Suncare products (Gift includes a Limited Edition Beach Tote and a deluxe sample of Ultimate Sun Protection Cream SPF 50+ Wetforce).
Jewelry
* 60% off Pearl Jewelry
Shoes
* 25% Off Select Women's Shoes from Tommy Hilfiger, Franco Sarto, & more
Accessories
* Fitbit Alta just $99.99!
Handbags
* Save 25-50% off new clearance handbags (Fresh Markdowns!)
Men
* $29.99 Weatherproof Men's Waterproof Boots
And you and I both know that if you shop on Friday, you'll find an ever better selection than if you wait until Saturday. Plus, there's nothing stopping you from getting these items in your cart today so you're ready to check-out with them when the sale prices kick in tomorrow.
This is just a small sample of the dozens of "Deals of the Day" you'll find throughout Macy's and on Macys.com during the May One Day Sale. Here are all the details you need to know for this sale:
May Macy's One Day Sale 2017 Details
What: Macy's May One Day Sale
When: May 12-13, 2017
What You'll Save: up to 70% off
Code to Use: none needed
Don't forget – when you shop the Macy's May One Day Sale online, not only can you shop in your pajamas, but you'll get free shipping at just $25!